Contact Info
You can visit us and contact our office in Naperville:
Office hours:
Monday – Friday 8:00AM – 4:00PM
Address: 1717 N Naper Blvd Suite 200, Naperville, IL 60563, USA
Phone: +1 331 215 8799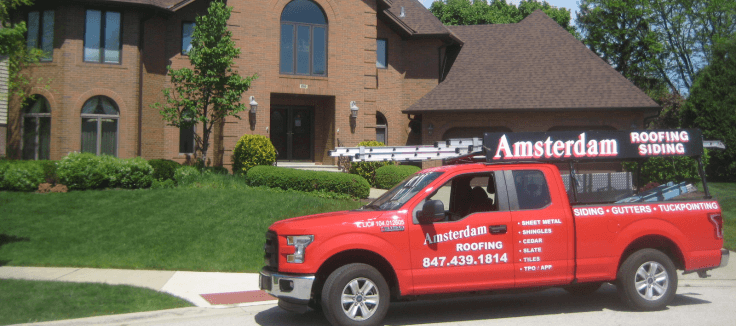 Amsterdam Roofing Contractors in Naperville – The Highest Quality of Service
Amsterdam Roofing has been providing services for years. Our roofing company in Naperville provides different services such as roofing repairs and roofing replacements in your residential and commercial places. Our professional roofing contractors have the best expertise to provide outstanding outcomes to our customers. We only use the highest quality of service in order to make sure that your roof will last you for years. We don't stop providing roofing services but we also take care of your window needs. When it comes to your roofing needs, you can trust and rely on us. Our company ensures to provide a high quality of service at an affordable price.
Top-notch roofing contractors in Naperville – Amsterdam Enterprises
With the years behind us, we have improved our services to provide top-notch results for our customers in Naperville. We offer services that cover commercial roofing, residential roofing, and roofing solutions for historic properties. Our roofing contractors are highly skilled, and we take pleasure in delivering on-time results that can satisfy your needs. With our help, your dream roof is just within your reach.
Choose Amsterdam Roofing Contractors in Naperville, choose our quality!
For high-quality and affordable roofing services, we at Amsterdam Roofing Company is the one you can trust. We have been providing solutions for 36 years and counting, establishing strong impressions with all the successful projects we do.
We provide a wide array of roofing services primarily: Roof Repair, Replacement, and Installation. Our roofing contractors are highly skilled in particular services that other roofing companies can't match. It includes Sheet Metal Work, Historical Restoration, working with slate, copper, ceramic tiles, and more. We have a team of experts who can assist you with all of your needs and will listen to your ideas and make it come true.
If you require a roofing company that you can rely on in Naperville and in nearby areas, we are just within your reach. We will immediately respond to your inquiries.