AMSTERDAM ENTERPRISES – Roofing Company Long Grove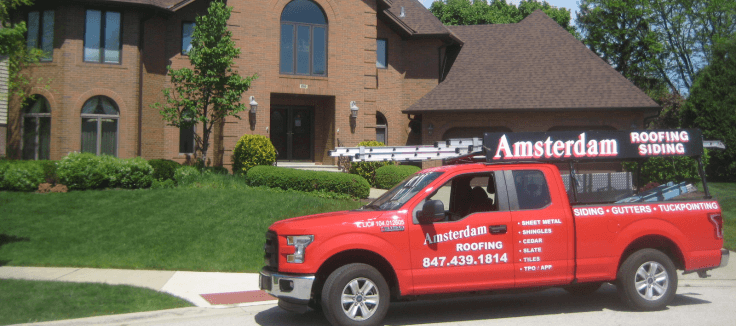 We provide residential and commercial roofing Long Grove – repair, replacement, and installation
For more than 41 years, Amsterdam Enterprises has been your neighborhood roofing company in Long Grove. We are proud to serve the Northwest Suburbs, West Suburbs, and the North Shore of Chicago with reliability, quality, and expertise. The original owner, Gerard Stencel, continues to be the lead roofing inspector/estimator, since establishing himself in the roofing industry in 1982. Gerard began as a roof laborer before choosing to open his very own roofing company Long Grove. He originally opened Amsterdam in his small Mount Prospect home's garage. Then, in 1995 he built the official Amsterdam headquarters in Long Grove.
Your Roofing Contractors Long Grove
We have vast experience serving as evidence that we are a leader among local roofing companies in Long Grove, ideal candidates to execute your roof repair or roof replacement Long Grove. Our experts are ready to handle commercial roofing and residential roofing. We make certain to partner with the very best company so we can exclusively offer you high-quality materials. Not only do we offer roofing services for you, we can also repair gutters, an often-neglected issue. From galvanized to aluminum, we provide a variety of gutter services. Additionally, we can replace your sidings so the exterior of your home can be as attractive as possible. We will ensure your home ends up looking better than ever. In addition to any requirements for roofing Long Grove, we additionally offer services like wood, aluminum, and vinyl for the windows in your home. If you are considering window improvements, we are the ones to depend on.