Business Name: Amsterdam Enterprises Roofing Contractors
Contact Info
You can visit us and contact our office in Elk Grove:
Office hours:
Monday – Friday 8:00AM – 4:00PM
Business Name: Amsterdam Enterprises Roofing Contractors
Address: 924 Ridge Square Unit 213, Elk Grove Village
Phone: (224) 242-8226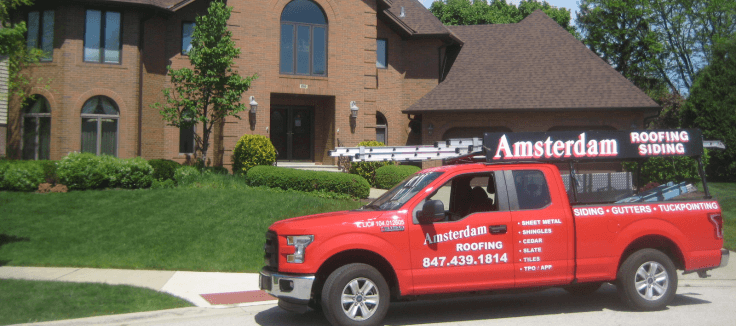 The Highest Quality Roofing Services By Professional Local Roofing Contractors
in Elk Grove Village
Amsterdam Roofing Company has served the local community with professional, top-quality service for roof replacement and roof repair in Elk Grove Village for over 30 years. Our Elk Grove Village roofing company is capable of offering all types of roofing services and we can even take care of your windows. When it comes to your roof, our roofing contractors in Elk Grove Village bring the greatest expertise. We make sure that the superior quality materials we use are handled correctly for a long-lasting roof. Our years as the top roofing company in Elk Grove Village have given us the experience to work with both residential and commercial buildings. So no matter what we are working on, our job is to make sure your roof is solid, secure, and durable. And we do that at an affordable rate that makes it very easy for you to manage.
Amsterdam Enterprises Provides the Greatest Skilled Roofing Contractors in Elk Grove Village
With over three decades of experience providing quality work as the top roofing company in Elk Grove Village, our roofing contractors are able to exceed any roofing expectations. We manage projects for residential roofing, commercial roofing, and even historic buildings, which is notable to our level of professionalism and expertise. Let us help your roof look great and last for years. Amsterdam has you covered from the roof on down.
The Quality Roofing Company in Elk Grove Village You Can Count On
For top-quality roofing in Elk Grove Village that is also very affordable, trust Amsterdam Roofing Company. We have been providing roofing expertise to the area for over 30 years, which shows that we not only know what we're doing on your roof, but we are also the best at doing it.
Our roofing contractors in Elk Grove Village offer a great range of roofing services, including roof replacement, roof repair, and roof installation. We also specialize in services that other less experienced roofing companies may shy away from, like historical restoration, sheet metal work, and handling copper, slate, and ceramic tile roofing. We have an expert team of roofing contractors in Elk Grove Village who are ready to handle your roof.
When you need a roofing company in Elk Grove Village or any other local areas in Illinois, call Amsterdam Roofing Company for outstanding roofing expertise.