Amsterdam Enterprises Roofing Contractors | Roof Replacement & Roof Constructions
Contact Info
You can visit us and contact our office in Glenview:
Office hours:
Monday – Friday 8:00AM – 4:00PM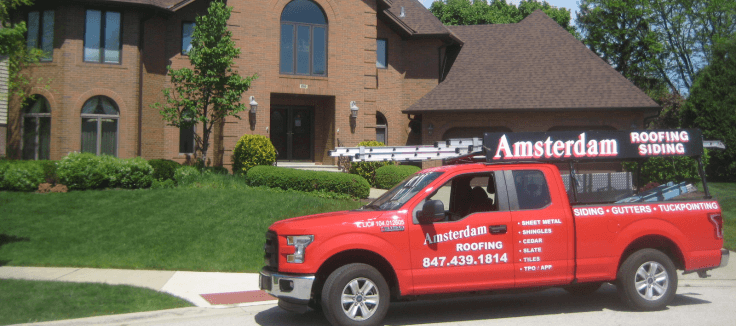 Glenview Roofing Contractors Providing the Finest Service
Amsterdam Roofing Company has been providing quality and affordable services for more than three decades. We can handle any roofing and window services. Whether it is residential or commercial space, our roofing company in Glenview gives you insured roofing contractors that provides superior quality and award-winning customer-service on each and every roof we complete. Our goal is to ensure that your roofs are sturdy and long-serving. We secure the success of our work by using highly quality materials. With just the right combination of beauty, performance, and reliability of our services, we will surely improve your home's value. For all your roofing needs, we got you covered.
The Amsterdam Enterprises – first-class roofing contractors in Glenview
Over the years of our services, we take our work and our reputation very seriously. That makes us the top-notch roofing company in Glenview. We only use the highest quality materials with the best available warranties for your roofing needs. In Glenview, we offer residential, commercial and historic properties services. That's why we ensure you that your place will stay protected for years to come.
Dependable Top-notch Roofing Company in Glenview
We provide you affordable and quality roofing services. Our 36 years of extensive experience, lasting and thriving in the industry proves that we provide excellent customer services. Quality craftsmanship and design are our key- and our roofing contractors are well trained and experienced and always ready to accommodate your every need ensuring our customers' satisfaction and their roof's long term performance. We provide a wide range of roofing services, such as roof replacement, roof repair, and roof installation. We also offer specialized services that other unseasoned roofing companies do not. We can handle historical restoration and sheet metal work, and work with materials such as copper, slate, and ceramic tiles, and a lot more. If you're in the market for a new roof or repairs in Glenview, you probably know what a big investment it can be. That's why Amsterdam Roofing Company should be your first choice.