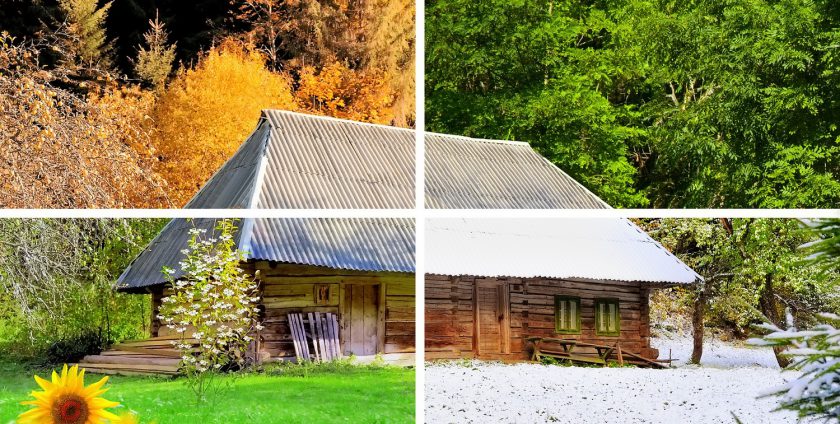 Whether you are in the market for a roof replacement already or your leaking roof is causing you to seek immediate treatment, our roofing company has the solution. We have experience working on many different size homes so no job is too big or too small. Picking the right contractor is super important for the future of your home. When a roof is installed properly it lasts longer simple and plain.
As seasons change we being to notice different factors that affect the health of our roof showing up over and over again. Rain, snow, heat, and humidity are just a few weather condition that can impact your ability to get a fast solution. Knowing which season is best for your project as well as getting in contact with a professional roofing company is valuable information especially if you are experiencing these problems in real time. We made a list of the best seasons to get your roof replaced and why as well as the drawbacks behind each one. They are as follows.
Fall (September, October, November)
The weather has cooled down significantly since the summer months. Taking advantage of this weather transition is crucial because this is known as the best season of the year to perform your roof repair and here are a few reason for this:
Workable temperatures (for the contractors as well as your shingles)

Mild Weather 
Timing being before the harsh winter
During this season temperatures usually are from 45 to 85 degrees which is good for roofing contractors as well as your structure. This season allows contractors to to work for longer with less delay periods due to inclimate weather. While there are a lot of issues that can arise in this season such as rainy days if you start at the beginning of fall these days come less. This optimal climate environment allows for shingles to seal properly before the snowy season comes to challenge them.
Cons of Fall Roof Replacement 
Being that winter is on it's way it makes this time considered crunch time for you to take care of your issues. Because of this it is hard to get on a roofing companies Northbrook schedule being that everyone is pretty much in the same boat and attempting to get appointments all at the same time. Summer is another busy period in the roofing industry and with this season being popular as well you often see a lot of jobs get rescheduled during this period before winter. With these issues in mind, consider that roofing companies Long Grove are able to work longer hours during this period and catch up on previous work in a timely manner.
If fall is the season of choice for you, go ahead and start planning your project now in advance to minimize the risk of running into these scheduling issues that can arise. Contact a professional roofing service to reserve your spot.
Spring (March, April, May)
This time is one of the hottest times of the year based on the fact that winter just passed and most of the issues you were unaware of have revealed themselves as real problems. Reroofing is very popular in the spring time as this is known as only second to the fall when it comes to optimal time periods. Here are a couple reasons why this is so:
Scheduling flexibility
Low humidity
Usually business is not as fast as it is during the fall for this season. Because of this you have a better chance of getting your appointment in a timely manner. Also doing this before summer gives you a roof a chance to settle in before the summer and winter seasons are here to challenge its structure. Weather patterns are usually mild during this time as opposed to other seasons. This helps you to keep moisture from becoming a seriou issue early in the year.
Cons of Spring Roof Replacement
The rain is a factor that can cause constant delays during this season so while getting on the schedule is good there could be rescheduling that needs to take place if weather is not formidable. The good thing about this is delays only tend to last for a couple days.
Summer (June, July, August)
The sun is back at its apex and it's time to get back to work on your roof. The popularity of summer roof replacements can not be understated due to the almost guarantee that the weather will be good for your project. This is true for several reasons:
Consistency
Less Rain 
If you choose the summer you should try to aim for early in the summer as it leads to less humidity and less precipitation. The middle of the summer is when heat can reach extreme temperatures that can make roofing unbearable. Another benefit of this is the decreased energy you will expend. Asphalt shingles seal perfectly during this time of year and are able to properly activate which can help you keep your roof safe for the coming wetter more wind rich conditions that are to come.
Cons of Summer Roof Replacement
Waiting too long can cause conditions to be unworkable for your contractors. Note that roof temperatures are always 20 degrees hotter than they are on the ground. This heat can also cause problems for your shingle installations as they can become soft and easier to mess up during the configuration process.
Being that this season is seen by many homeowners as the most popular one it is harder to get an appointment with a contractor. This makes the overall time of your job from initial consultation til completion significantly longer than other periods of the year.
Winter (December, January, February)
Just because the temperatures are freezing and the snow is blowing doesnt meant that roofing contractors don't perform roofing replacements in this season. There are numerous challenges to working in the winter but there are also a few benefits:
Company availability 
Because most don't even consider winter as a month where roofing jobs can take place there is a lot of time available for contractors to look at your home and complete the job. As long as there are no winter storms and condition are solid you have a good chance of getting a personable experience with an expert during these months that most see as impossible.
Cons of Winter Roof Replacement
Because asphalt shingles seal a lot better with heat exposure you may have to wait for months to get these installed as this is a huge issue during times of cold temperatures. It's also harder to insert the nails associated with shingle installation. The tar sealant is another obstacle that can really only be activated under hotter temperatures and sunlight. There is an option where contractors may choose to hand seal them to make sure that they do not blow off due to high wind speeds but this process can increase your overall cost by a wide margin making it a more expensive job than you first thought. With more tedious work to be completed this leads to more time taken as well which can make your labor costs skyrocket as well. Because the days are shorter, roofing contractors can only work short days as well.
Even with all of the deterrents that can impact the season in which you choose to get a roof replacement, the good news is that a quality roofing company can complete your job no matter what season it is. Consult an expert to see which season is best for your particular situation. This can also be based on the location of your home, materials used and the complexity of the project.
When contemplating your roofing solution to make your home shine like new, reach out to our roofing company Amsterdam Enterprises to help you throughout the entire process. Call us today to get your inspection and consultation taken care of. We look forward to hearing from you and taking your project head on.
By: Pawel Pacocha
0 comment