Amsterdam Roofing Contractors and Roof Repair
Contact Info
You can visit us and contact our office in Wood Dale:
Office hours:
Monday – Friday 8:00AM – 4:00PM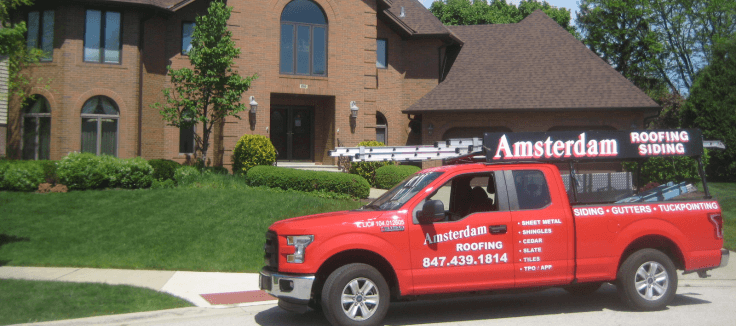 The Highest Quality Service
by Wood Dale Roofing Contractors
Welcome to Amsterdam Roofing Company, your reliable roofing contractors for more than thirty years. Our roofing company in Wood Dale offers wide-ranging services including residential roofing, commercial roofing, roof repair, roof replacement, and more. Our contractors have the essential skills and proper training to deliver the results you need. We only use high-quality materials and the safest equipment to ensure your highest satisfaction. The experience we gained from our years of serving the community allows us to ensure the quality and beauty of your roof. All of our services come with a reasonable price that you can never find on other roofing companies.
The Amsterdam Enterprises – best roofing contractors in Wood Dale
Our years of experience allow us to provide the best roofing services in Wood Dale. We offer residential roofing, commercial roofing, as well as historic properties in the lowest price possible. We make sure that every roof we provide is aesthetically satisfying and extremely durable. If you need someone to do your roof, we are your best option.
The Most Trusted Roofing Company in Wood Dale
If you are looking for the highest-quality roofing services in Wood Dale that you can trust, head straight to Amsterdam Roofing Company. We provide the most affordable services within our 36 years of experience of leading and excelling in the industry.
We provide a wide array of roofing services, including Roof Repair, Roof Replacement, and Installation. Unlike other roofing companies, we also specialize in services such as Sheet Metal Work and Historical Restoration to different working materials like Slate, Copper, Ceramic, Tiles, and many more. We have experts that can guide your every decision and provide what you need to make your imagination come true. Our goal is your approval and happiness. If you need a reliable roofing company to accommodate your roofing needs in Wood Dale and nearby areas, reach us out, and we will be there as fast as possible.