Contact Info
You can visit us and contact our office in Aurora:
Office hours:
Monday – Friday 8:00AM – 4:00PM
Address: 1444 N Farnsworth Ave #100, Aurora, IL 60505
Phone: +1 331 212 8509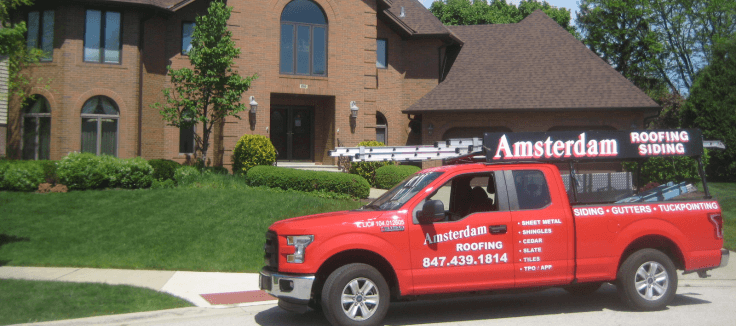 Trustworthy and Reliable Roofing Services By Professional Roofing Contractors in Aurora
With more than 30 years of roofing service, Amsterdam Roofing has been providing top-notch services to our customers. You can count on our roofing company in Aurora when it comes to your roofing needs. We can take care of your residential and commercial roofing. From repairs to replacements, our roofing contractors got you covered. We only use the highest quality materials to ensure the best outcome for our customers. It is important for us for you to have a roof that would look beautiful with your home and will last you for years. An affordable service that provides the highest quality of service!
Amsterdam Enterprises Provides the Highest Quality Roofing Company in Aurora
We provide top-notch roofing solutions that can upgrade the look of your place. Whether you need a reliable roofing company who can provide you with high-quality commercial roofing or residential roofing, our experts are ready to do it for you. We have been handling different roofing projects in Aurora. If you need reliable roofing contractors for your roofing needs, we are your number one choice.
Amsterdam Enterprises – The Most Trusted Roofing Contractors in Aurora
We at Amsterdam Roofing Company is your number one choice when it comes to excellent quality and affordable roofing services. We have been providing effective solutions for the community for over three decades, and we are still counting for more.
The years behind our backs allows us to offer all the knowledge and skill needed to ensure the quality of our services. We provide different roofing solutions, including roof repair, replacement, installation, and so much more. What set us apart from other roofing companies is that we specialize in providing Sheet Metal Work and Historical Restoration. We work using different materials including Ceramic, Copper, and Slate tiles.
If you need the most trusted roofing contractors in Aurora, reach us out. We also offer our services in nearby areas, so there is no need for you to look further.