Amsterdam Roofing Companies | Roof
Replacement & Roof Repair
Contact Info
You can visit us and contact our office in Downers Grove:
Office hours:
Monday – Friday 8:00AM – 4:00PM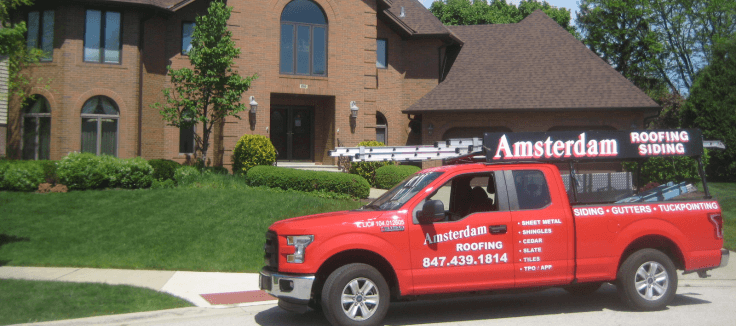 The Highest Quality Work By Your Local Roofing Contractors Downers Grove
Looking for a high-quality roofing service in Downers Grove? Look no further, Amsterdam Roofing Company is here to help you with any roofing needs that you may have. Our roofing company has been providing outstanding services for 36 years. We are proud to say that we can do it all for you. From replacements to repairs of your residential roof or commercial roof, our contractors are ready to attend to your roofing needs. We only use the highest quality materials to ensure that your home will be protected during any harsh season. Our top priority is to provide customer satisfaction, to achieve it we only provide the highest quality of work to our customers.
The Amsterdam Enterprises – best roofing company in Downers Grove
We only provide top-notch service to our customers that have roofing needs. We cater to residential, commercial, and historic properties. Our roofing contractors are equipped with the latest knowledge and tools to ensure that you will get the best service possible. Our roofing company will ensure that your roof will be beautiful and will last you for years.
Top Quality Roof Repair from Downers Grove You Can Trust
Building on our 36 years of experience, Amsterdam Roofing Company has been giving our customers cost-efficient and quality roofing services. We have succeeded in the industry long enough that we only offer excellent services to our customers.
With a wide range of roofing services we provide, we are your one-stop-shop. Not only do we offer basic roofing services such as roof replacement, roof repair and installation, but we also do historic restoration and sheet metal work. We also pride ourselves in working with various materials like copper, slate, ceramic tiles, and others. Our goal is to provide customer satisfaction. Our experienced staff is readily available to answer all roofing services inquiries. Get in touch with Amsterdam Roofing Company in Downers Grove and let us help you materialize your dream roof.