OVER 17,000 HAPPY CUSTOMERS
Contact Info
You can visit us and contact our office in Des Plaines:
Office hours:
Monday – Friday 8:00AM – 4:00PM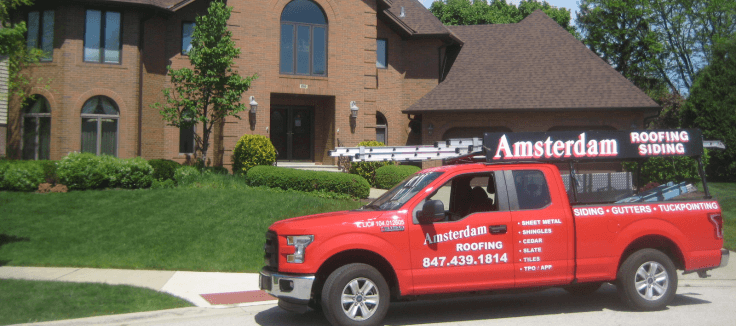 Let our expert roofing contractors serve your roof in Des Plaines!
With over three decades of experience, Amsterdam Roofing Company has established itself as the premier roofing company catering to the different suburbs of Chicago. From Buffalo Grove to the city of Des Plaines, if you've ever canvassed for roofing contractors, chances are you've probably heard of us. We take pride in our top-notch service, delivered by our expertly trained crew, and evidenced by the number of satisfied customers we've served. From roofing, its repair or replacement, to a slew of other services whether commercial or residential, no project is too big or too small for us.
How You Can Select the Ideal Roofing Company in Des Plaines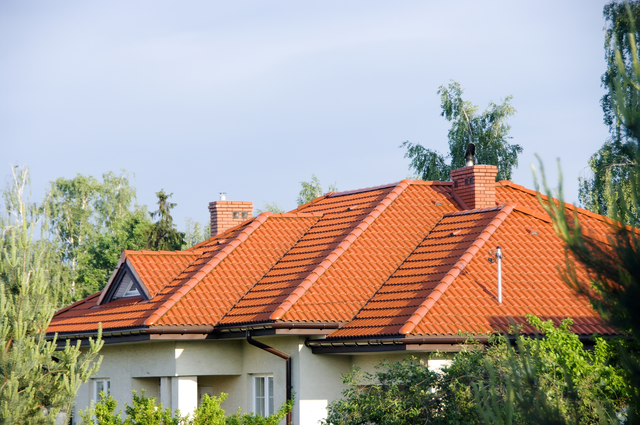 Make Sure of Insurance Coverage
The most important part of finding the right roofing contractor in Des Plaines is checking for the proper insurance coverage, which includes worker's compensation and liability insurance. Ask to see their certificates and call the insurance provider to confirm coverage. This keeps all bids on the same level playing field. Part of the cost for your roof replacement is for the insurance coverage to protect you against damage or injury.

Local Roofing Company
When you choose a local roofing company in Des Plaines, you can recognize their work and their longevity in the community, so you can be certain they will be there when you need them. You will know the reputation the roofing company has built in your community. We often hear from customers about a problem on their roof after dealing with another roofing company that was not established and has since disappeared. A warranty from a roofing company is of no use if they are no longer there to honor it. Working with a local roofing contractor is the solution to that situation.

What's More Important than Price?
Price is an important factor for many individuals but choosing a roofing company based on the lowest price alone can turn into a problem for you. Cheap offers drive market prices down but any roofing company in Des Plaines with overhead costs and insurance considerations has to establish prices that cover those concerns. Some roofers only do side work or operate out of a small pickup truck are able to offer a lower price. In the long-run, however, expect to get what you pay for as you could end up paying more for repairs down the road. These types of repairs would have been covered with a guarantee from a reputable and established roofing company in Des Plaines.

Watch Out for Door Knockers
Be very mindful of the knock on the door from people claiming to be from a roofing company offering a great deal while they are in your neighborhood for a limited time. Instead, you should choose a roofing company that is recognized in your area or from a trusted referral. If you get that knock on your door, you will likely hear that your roof has storm damage that needs attention and that you need to sign a letter of intent. These pressure tactics are common and you should not be fooled by them. You do not have to sign a letter of intent. A reputable roofing company in Des Plaines will allow you to take your time reviewing a contract before doing the work.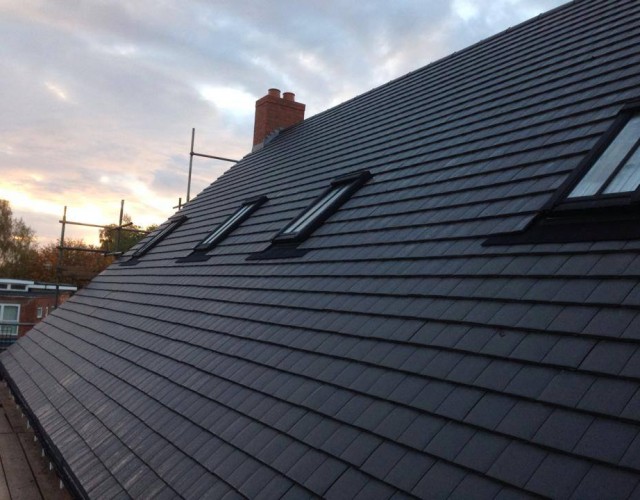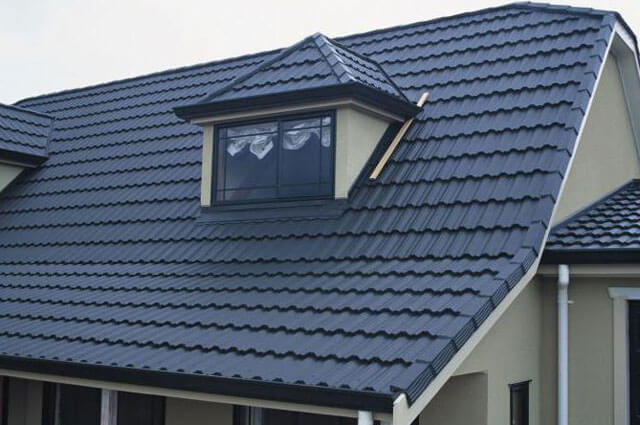 A Quote Should be Detailed
Your roofing company in Des Plaines should provide you with a quote that details everything you need to know about your roof replacement. You should know exactly what to expect, from the time frame to the number of roofing contractors to the cost and payment terms prior to the job commencing. There is also no need to provide funds until the work has been completed. This will ensure that you are completely satisfied with the final result and any issues can be resolved.


Easy Customer Communication
A roofing company that is operated properly will return your calls and follow through on what they promise. You should not have to chase after anyone for documentations like insurance or a contract. The roofing company representative should be proactive in keeping you informed and with moving the project through from beginning to end. If you have a communication problem, move on to another roofing company. If you don't get what you need from your roofing company in Des Plaines before the work begins, think about the kind of work they will do on your roof.

The Amsterdam Enterprises – top-notch roofing contractors in Des Plaines
We take pride in our devotion to providing the best roofing services to our customers in Des Plaines, IL. We got your residential, landmark, commercial, and historical properties covered. Our contractors are equipped with the professional skills and high-end tools necessary to complete any roofing needs of our customers. Be sure that we deliver an exceptional quality of work.
The Best Roofing Company in Des Plaines
If you're living in the north and northwest suburbs of Chicago, such as the city of Des Plaines and are looking to hire a roofing contractor for a job, then your search ends here.
We offer your basic roofing needs like Repair and Replacement. Furthermore, we specialize in a host of other services like applying architectural, cedar, or designer shingles to working with materials like slate, ceramic tiles, and copper roofs. If what you need isn't on our list, voice this out so we can provide you with alternatives. That said, our over 3 decades' worth of experience in the field allows us to cater to our customers in ways other roofing companies cannot. With a system that considers customer satisfaction and service of paramount importance, our dependable staff are more than happy to aid you with whatever you require.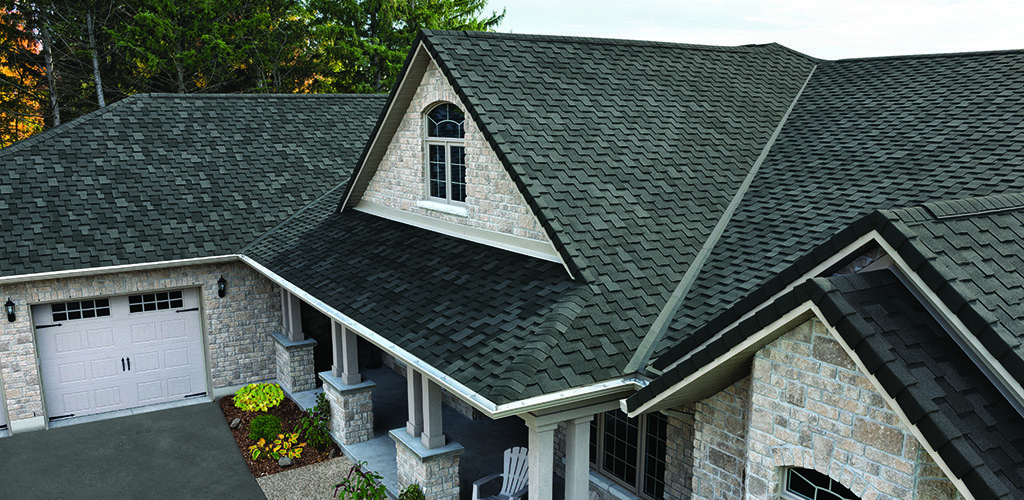 Important Reasons to Keep Your Roof in Good Shape – Roofing Contractors in Des Plaines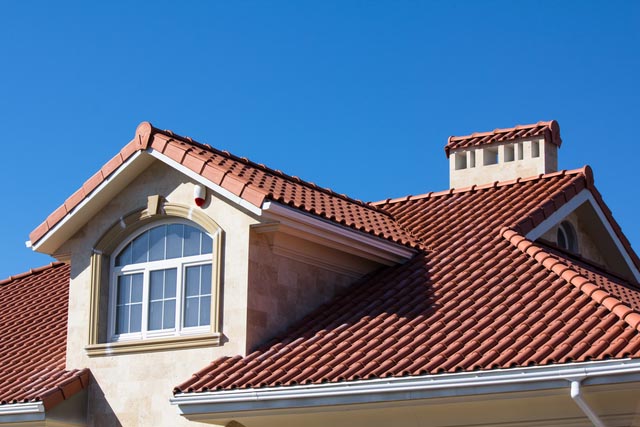 Your roofing is one of the most fundamental parts of your home, and some homeowners tend to overlook this fact. Caring for your roof is essential, making sure that everything is in great shape. In many cases, people would rather wait until they encounter significant issues to fix the roofing problem that they have.
If you haven't given enough attention to your roof, it is susceptible to weather damage. Leaks can be a big deal when you have them on your roof. It can lead to mold and mildew, which can spread quickly throughout your home. Having mold infestation in your home can be a threat to you and your family. The repairs can also be costly and complicated when it comes to these situations.
Having a roof that is in excellent condition has a lot of benefits. When your roof is in its top shape, you have good insulation and proper ventilation system that keeps the temperature of your indoor home steady. When this is done, it can significantly lessen your energy costs. Not only that, it can keep your home more comfortable for you and your family.
Our roofing company in Des Plaines is here to make sure that your roof is in its best shape. A roofing that is in excellent condition will protect your home from any weather conditions that it may face. We ensure that your roofing will be durable to protect your home from dangerous leaks, energy efficiency, and will add curb appeal as well as value to your home. We are one of the roofing companies in Buffalo that you can trust and rely on.