Contact Info
You can visit us and contact our office in Des Plaines:
Office hours:
Monday – Friday 8:00AM – 4:00PM
OVER 17,000 HAPPY CUSTOMERS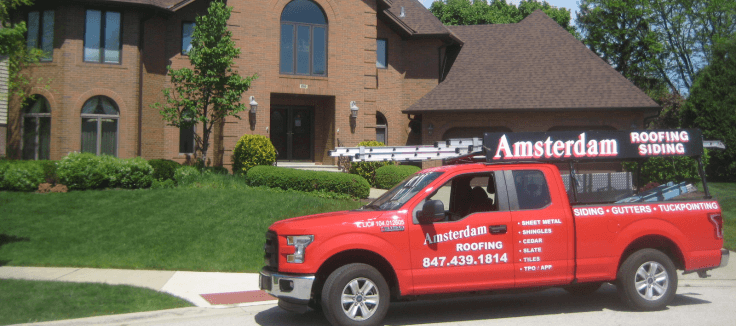 Let our expert roofing contractors serve your roof in Des Plaines!
With over three decades of experience, Amsterdam Roofing Company has established itself as the premier roofing company catering to the different suburbs of Chicago. From Buffalo Grove to the city of Des Plaines, if you've ever canvassed for roofing contractors, chances are you've probably heard of us. We take pride in our top-notch service, delivered by our expertly trained crew, and evidenced by the number of satisfied customers we've served. From roofing, its repair or replacement, to a slew of other services whether commercial or residential, no project is too big or too small for us.
The Amsterdam Enterprises – top-notch roofing contractors in Des Plaines
We take pride in our devotion to providing the best roofing services to our customers in Des Plaines, IL. We got your residential, landmark, commercial, and historical properties covered. Our contractors are equipped with the professional skills and high-end tools necessary to complete any roofing needs of our customers. Be sure that we deliver an exceptional quality of work.
The Best Roofing Company in Des Plaines
If you're living in the north and northwest suburbs of Chicago, such as the city of Des Plaines and are looking to hire a roofing contractor for a job, then your search ends here.
We offer your basic roofing needs like Repair and Replacement. Furthermore, we specialize in a host of other services like applying architectural, cedar, or designer shingles to working with materials like slate, ceramic tiles, and copper roofs. If what you need isn't on our list, voice this out so we can provide you with alternatives. That said, our over 3 decades' worth of experience in the field allows us to cater to our customers in ways other roofing companies cannot. With a system that considers customer satisfaction and service of paramount importance, our dependable staff are more than happy to aid you with whatever you require.