OVER 17,000 HAPPY CUSTOMERS
Contact Info
You can visit us and contact our office in Buffalo Grove:
Office hours:
Monday – Friday 8:00AM – 4:00PM
Amsterdam Ent. Roofing Company, Roof Replacement & Roof Repair
Address: 3 Villa Verde dr, Buffalo Grove, IL 60089
Phone: +1 224 3477590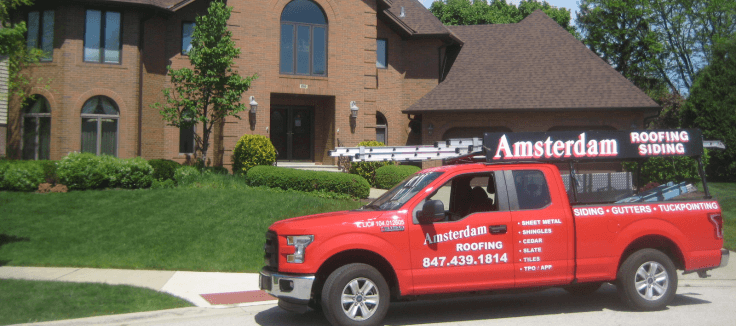 Leading Local Roofing Company That Has You Covered in Buffalo Grove!
Amsterdam Roofing Company is your trusted roofing company in Buffalo Grove. We have years of experience when it comes to your roofing replacement and roofing repairs. We make your life easier by from taking care of your roof from start to finish. Our contractors are well experienced and can get the job done accurately and in a timely manner. We will ensure that your preferences are met and we will meet all of your suggestions. We have affordable prices when it comes to getting your roof done. Our company uses high-quality materials because we know that your roof is an important part of your home.
The Amsterdam Enterprises – top-notch roofing contractors in Buffalo Grove
We have seen and done it all by making the roofs that can withstand extreme environmental conditions. Our roofing company in Buffalo Grove, IL believes in providing only the highest quality of services. We cover all kinds of projects – from residential and commercial, to historical properties. Our contractors will make sure that you are well communicated from start to finish.
The Best Choice Among all Roofing Companies in Buffalo Grove
Here at Amsterdam Roofing Company, we provide different kinds of services when it comes to your roofing. Our roofing company in Buffalo Grove offers roof replacement and repair. If your home needs some restoring, we will get that done for you since we offer historical restoration as well. For your residential roofing, we provide services from cedar shakes to cedar shingles. If you have a business that needs any roofing replacement or repairs, we got you covered as well. Our services range from TPO roofs to APP modified bitumen roofs as well as skylight installations. We do not only make sure that your roof looks beautiful, but we also ensure that your roof is sturdy and will last years. Our services are affordable and we will make sure that we stick to your budget. Our contractors have a lot of experience and you can count on us to get your roof done efficiently.